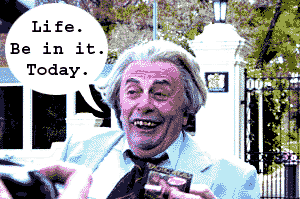 TOECUTTER DOUBLE L.P.!!!
Whoa, what a fucking ORDEAL!!! But it's arriving any day at the factory, after the patience of Yann from REverse Mastering, who said
> > "toe cutter LP"
> > realy the way you make your music make nearly
> > impossible to cut it ,
> > you can make digital over load , but not 20 ,30 dB
> > over 0 ....
> > I need 4/5 laquers per side , normaly I use 1 ...
> >
> > and about the studio time .... a nightmare , while i
> > cut one side for you , I
> > can make 10 side for other people ...
So, again, I make a nightmare for the engineers, here's hoping this wil bring dreams to everyone who has been expecting it for GOD ONLY KNOWS how long!!!
SO, it shoulld be about 40 days away, I think
For those who care, here is the TRACKLISTING
A1. SHIT ON ME
A2. FUCKING ROTTEN
A3. YOU ME CARPARK NOW
A4. BURN YOUR HOME
A5. TERROR AUSTRALIS
B1. SHAFTMAN REMIX
(original by Nasenbluten/Syndicate)
B2. KILL INTELLIGENT JOCKS (they are the master race)
B3. THE LOGICAL SONG (progressive mix)
B4. NU-LO
C1. STRIVING FOR PEACE BETWEEN MAC AND P.C. USERS
(original by Donna Summer)
C2. BEAUTY AND THE BEASTS
(original by Dave Dobbin and the Herbs)
C3. BIG TOE BLUES
(original by The Sokuseki Men)
C4. LAP.TOP.HOT.SHOT
(original by KID606)
C5. DNIL8R
(featuring M.C. Slurry)
D1. BABY DON'T CALL ME
(remix by XIAN)
D2. SODOMECSTACY
(remix by SHITMAT)
D3. CUM ON BARBIE
(remix by SICKBOY)
D4. GRAVEYARD HATERS
(remix by MALADROIT)
D5. CUT UP COPS



It's been a long time since I rock and rolled,
sorry for those of you who have been slitting your wrists,
WAITING for new stuff! This is one of the oldest tracks about, dragged off the SY:CO CD 01, which features a samples from two of my most revered pieces of human, Neil Hamburger and "Funny Games", an Austrian film.
Both are worth a look-in!



Toecutter - I.Q. Puncture



I would also like to introduce you to the only real "live-set" I have available, which was recorded in Brussels in 2004. It features a ten-second section of dead air, which was the result of having been dragged to the back of the room by some enthusiastic punters, still holding the microphone and the attached cord in turn dragged the mixer,
Sickboy's laptop, et all, onto the floor.


But everything turned out fine!
TOECUTTER _ LIVE IN BRUSSELS


mmmmmmmmmmmmmmmmmmmmmmm


contact is
toecutter at systemcorrupt.com


Live more of your life